Hakata jidori Fukueukumiai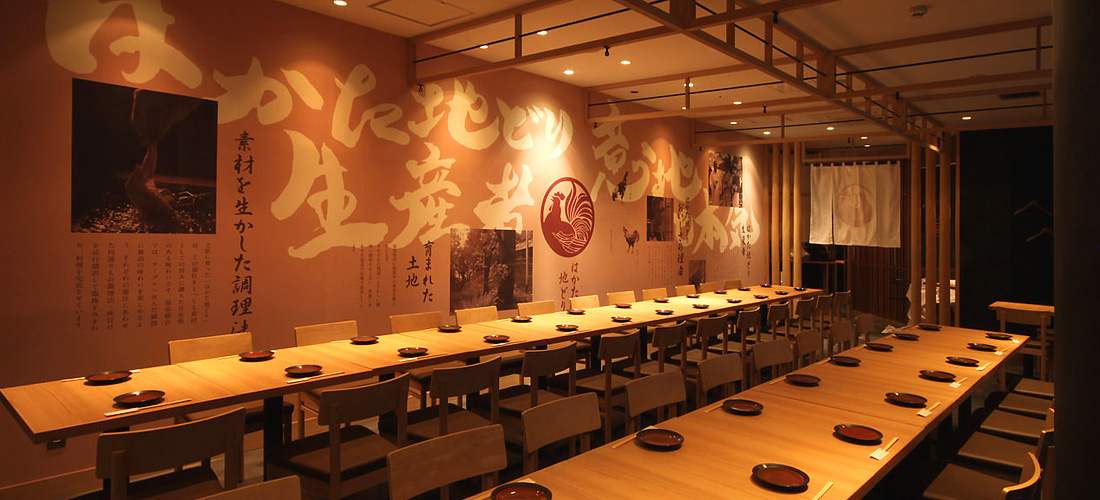 An "antenna shop" (showroom restaurant) for Fukuoka Prefecture's famous "Hakata Chicken." With its firm bite and juicy taste, please use it in a variety of dishes. The Ginza and Shibuya restaurants are all private room seating, ideal for entertaining.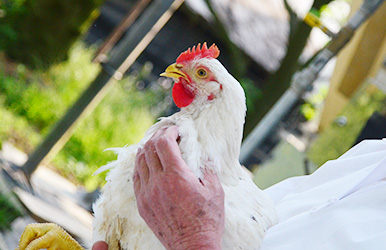 This local chicken is full of the love of Fukuoka
"Hakata Chicken" was created by Fukuei Kumiai, an agricultural cooperative in Fukuoka Prefecture, because they wanted people to be able to enjoy more delicious versions of local Fukuoka cuisine such as mizutaki (chicken and vegetable hot pot) or gameni (braised chicken and vegetables). The distinctive features of free-range local pedigree chicken include its unique chewiness, flavor that increases with each bite, and the fine quality of the meat that gives it a good, crisp bite.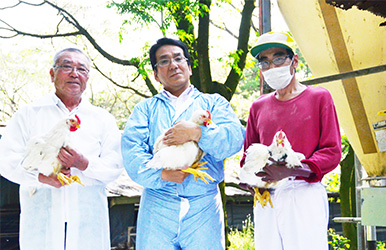 A business alliance with the Fukuei Kumiai agricultural cooperative
Formed a business alliance and opened the "Fukuei Kumiai" restaurant in Ginza in 2013, with the aim of promoting "Hakata Chicken." It became popular thanks to the natural deliciousness of the Hakata chicken and the enjoyment of eating local Fukuoka cuisine, and more and more stores opened in the Tokyo metropolitan and Kansai areas.

The spirit and earnestness of our producers From single dishes that bring out the moderate chewiness and rich flavor of the "Hakata Chicken" to "mizutaki", "satsuma-age" and other dishes based on local cuisine, at Fukuei Kumiai you can enjoy not only free-range chicken but also the plentiful flavors of Kyushu.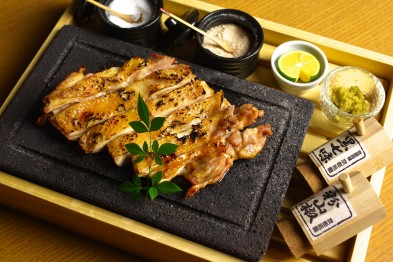 Hakata Chicken - A whole grilled thigh Thigh meat, juicy and moderately chewy, is cooked at a high heat until golden brown. Eat with your pick of Japanese seaweed salt, Sicilian sea salt, shichimi from Harakyokaku in Kyoto, or powdered pepper. Enjoy Hakata Chicken's famous "thick thigh," an absolute gem of a dish.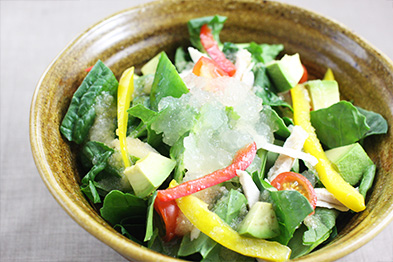 Hakata Beauty Salad This salad is full of vegetables and topped with collagen from Hakata Chicken and soft steamed chicken. It goes very well with our homemade dressing, made with the fresh vegetables, spices and vinegar indispensible for beauty, and is perfect as the first dish before you eat a lot of meat.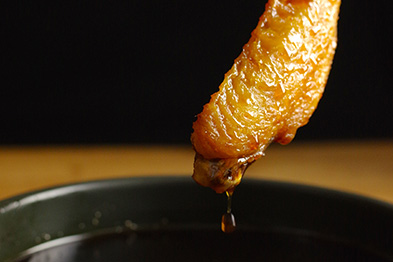 Secret chicken wings Hakata Chicken also produces wonderful wings. We take our time to prepare the wings, which are naturally juicy and soft. The addictive crunchiness of the skin and the lingering bite of our special spices are irresistible. Our special sauce is also specially made for this restaurant. Please enjoy with beer or shochu.